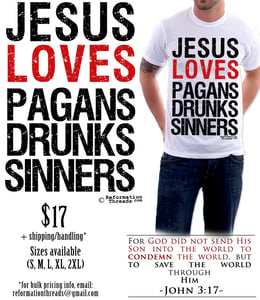 $

17.00
This shirt is printed on a Hanes® Tagless Shirt.
The world needs to know that God loves them. "Sinners" need to know that Jesus came to save them, not to condemn them.
Jesus spent a lot of time loving on the people that the "religious elite" of his day had ostracized and told His disciples to do the same.
We designed this shirt to combat judgmental messages of hatred with the good news message of the Gospel -- that God was in Christ not counting man's sins against them and that there is hope for all things to be made new through life in Jesus (2 Cor. 5:17-21)!
Please allow up to 6 weeks for delivery.
If interested in bulk orders (more than 10 - lower pricing), or if you need a rush order please email me and I will see what we can work out.
Contact:
reformationthreads@gmail.com