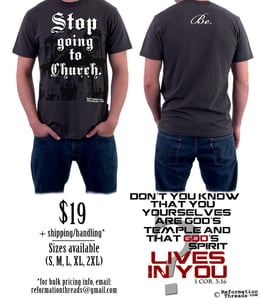 $

19.00
This shirt is printed on a Hanes® Tagless Shirt and has printing on front and back.
One of the most frequent questions that people are asked is, "What church to you 'go to' ?"
We made this challenging shirt for the simple fact of illustrating that the 'church' is not a place that one goes to, it is something that one is.
We are the temple of the Holy Spirit -- Jesus came and did away with the system of temple-worship where God was confined to a place and a building.
Now, we are His temple (1 Cor. 6:19).
This one is certainly not for the faint of heart -- expect to generate a lot of conversation with this one!
Please allow up to 6 weeks for delivery.
If interested in bulk orders (more than 10 - lower pricing), or if you need a rush order please email me and I will see what we can work out.
Contact:
reformationthreads@gmail.com